The Township of Seguin features many parks and beaches to soak up the sun, take a leisurely stroll, a dip in the lake or just to relax and admire the surrounding beauty.
Christie Ball Diamond
This well-maintained ball diamond features a fenced play area with a back stop. An asphalt play surface is also present adjacent to the ball field.
First Lake Beach
95 Blackstone/Crane Lake Road, Seguin
This family oriented beach located on First Lake hosts a swimming area, raft, playground equipment and a small picnic area. A public boat launch provides access to the lake.
Foley Horseshoe Pits
76 Rankin Lake Road, Seguin
Located at the Foley Activity Centre, the Foley Horseshoe Pits feature a sandy, illuminated play area able to host 8 games at once.
Please remember to bring your Horseshoes!
Foley Matheson Park & Beach
This lovely sand beach on Little Otter Lake off Rankin Lake Road features a large swimming area equipped with buoy lines for children, washroom and change facilities, and a playground.
Red Cross Swimming Lessons are offered throughout the summer months. Lifeguards are on duty from Monday--Friday throughout July and August.
Horseshoe Lake Beach
Scenic sand beach on Horseshoe Lake featuring a swim raft and play equipment. Small picnic area and privies are available for public use.
Humphrey Ball Diamonds
15 Humphrey Drive, Seguin
These well-maintained ball diamonds feature a fenced play area with a back stop. The diamonds can be booked for special events or tournaments.
Please visit the Humphrey Gazebo page for more information.
Humphrey Playground
15 Humphrey Drive, Seguin
This newly renovated playground features a children's play structure, swings, and rockers.
Beautifully wooded area located next to the Humphrey Sports Court.
Humphrey Sport Court
15 Humphrey Drive, Seguin
This new multi-purpose sports court in Humphrey features a fenced in basketball and ball hockey court. Adjacent to the court is a well-maintained children's park with playground equipment and a picnic area.
Joseph Hannon Memorial Park
Highway 518 & Star Lake Road, Orrville
This picturesque park was newly constructed in 2010 featuring plaques commemorating the historical significance of Christie Township. It also celebrates the life of one of Orrville's most beloved and respected civil leaders, Joseph Hannon.
A gazebo and gardens shape the park as well as four corners that mark the placement of the historic "Hannon's General Store" that was owned and operated by the Hannon Family during the late 1930s for over forty years.
Lake Joseph Centennial Beach
276 Clear Lake Road, Seguin
A natural sand beach nestled on popular Lake Joseph hosts a swimming area, a boat launch and privies. The beach also includes a grassy area for picnics.
Maple Key Park & Beach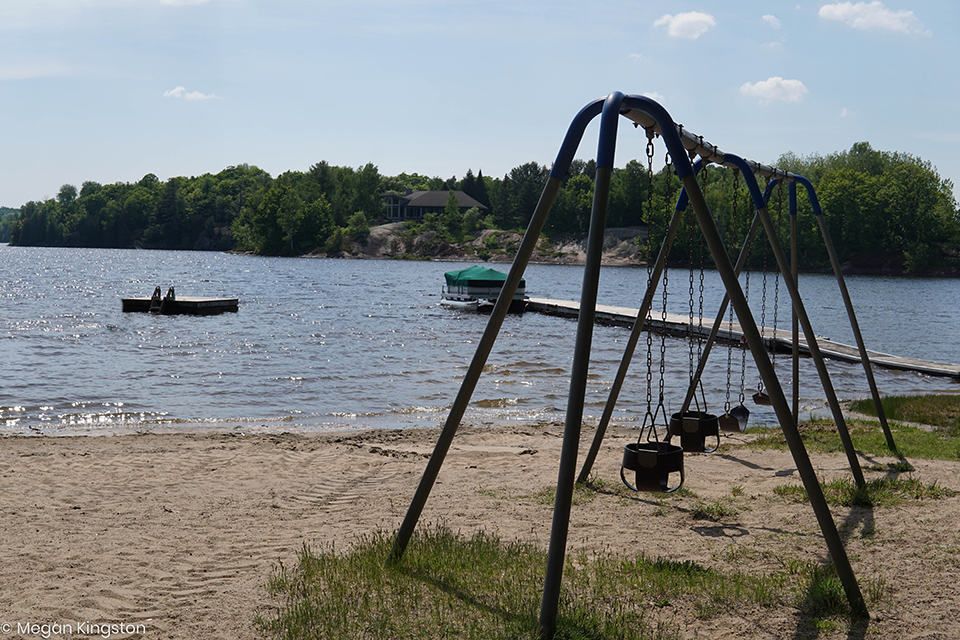 Maple Lake Estates, Orrville
This well-maintained park features a busy sandy beach with a designated swimming area with a diving raft. The park also hosts playground equipment, a picnic area and privies.
Rosseau Ball Diamond
3 Ash Street Rosseau
Large, well-maintained field located adjacent to the new Rosseau Sports Court. Available to rent by hour, day, or weekend. Please visit the Rosseau Field House page for more information.
Rosseau Field House & Sport Court Park
3 Ash Street, Rosseau
This sport court in Rosseau features a multi-purpose play area for various activities, including basketball and ball hockey. The court includes an apron for skateboarding.
The park also includes playground equipment for children as well as a sand box. A fenced ball diamond exists adjacent to the court and features many baseball games throughout the year.
The Field House is available for rentals as are the baseball diamonds. Please visit the Rosseau Field House page for rental information.
Rosseau Waterfront Park
Jim Swift Drive, Rosseau
This landscaped park on beautiful Lake Rosseau features a well-maintained sandy beach including a swim raft. The park includes a large playground for children and picnic facilities. Public washrooms and change rooms equipped with showers are available for use. A very successful Red Cross Swim Program is offered at this waterfront park and the Rosseau Market resides here on Friday's throughout July and August.
A beautiful gazebo at the edge of the lake is available to rent for wedding ceremonies or family gatherings.
For rental information, go to the Rosseau Waterfront page.
A public boat launch with ample parking is also available on site.
The Village Green in Orrville
1231 Highway 518, Orrville
A picturesque park located in the Village of Orrville. A well maintained garden features locally planted flowers and playground equipment for chil dren. A cenotaph is also situated in this family park.
A Farmer's Market is located here on Saturday mornings throughout the summer months.