New Parking Lot at Black Road/Hwy 400
In December 2019, a new municipal parking lot was created on Black Road for short term year round overnight parking. Seguin Township purchased this property from the Ministry of Transportation in the Spring of 2019. The intent of this purchase was to create a parking lot to alleviate parking issues at the Tim Hortons/Petro Canada parking lot for snowmobilers and users of the Seguin Trail. Park to Park manages the Seguin Trail which is an important recreational and tourist hub that spans from the Kill Bear Provincial Park to Algonquin Provincial Park. Discussions are on-going with Park to Park for their long term plans to use this property as a trail-head. Since this property is situated close to the Seguin Trail and a snowmobile trail, this is a great opportunity to service the public and provide short term year round overnight parking to encourage tourism to our area and allow more people to enjoy our beautiful local trails.

Parking is also available on Cargill Drive off of Oastler Park Drive for users of the Park to Park Trail and the Seguin Trail. Please see the map for details.
---
Our Trails
Explore the natural beauty that surrounds the region. With a taste of adventure, or just the need for a relaxing jaunt, our community hosts hundreds of kilometers of local trails for the intermediate user to the go-getter.
For more details on bike trails in the region, please visit the Ontario by Bike website.
SEGUIN TRAILS BROCHURE - click here
Humphrey Nature Trails
The Humphrey Nature Trails in Seguin feature 8 km's of eco-friendly trails leading visitors into the temperate forest, beside many creeks, overlooking wetlands, and scaling beautiful waterfalls. The trails are perfect for hiking, biking, cross-country skiing and snowshoeing. The trails can often be rough and muddy in the off-season, so wear appropriate clothing and hiking shoes.
Each loop leads into another loop. The trail features a warming barn open daily to get ready, eat snacks or warm up.
Parking and access is located in the Village of Humphrey, off Seguin Place Drive, directly behind the Humphrey Fire Hall.
Please click here for a printable Humphrey Nature Trails map.
Our Trails:
These trails can be divided up into 5 trail loops. The loops are fully groomed and accessible for Cross-Country Skiing and Snowshoeing during winter.
Rabbit Run
Rabbit Run features an easy 1 km trail through the forest. Including a gravel portion, this trail is widely used by seniors and young people looking to enjoy nature. Access to this loop is directly from The Barn. This loop will take you 10 minutes. Difficulty Level: Easy
Bear Paw Path
Bear Paw Path is a 2 km trail meandering through the wilderness. A portion of the trail is gravel for easy accessibility. Access this loop directly from The Barn. This entire loop will take you 15 minutes. Difficulty Level: Moderate
Running Deer Trail
Running Deer Trail can be done as a loop trail or to access Fox Trot and Moose Tracks. This 3 km loop leads you back into the wilderness where wildlife are frequently seen. This loop can be muddy and quite rugged. This loop will take you 30 minutes to complete. Access this loop through Bear Paw Path. Difficulty Level: Easy to Moderate
Fox Trot
Fot Trot loop continues into the mossy forest and can be found following Bear Paw Path. This unique 4 km loop overlooks an intriguing wetland home to five beaver lodges and many streams. This loop will take you 40 minutes to complete. Difficulty Level: Moderate.
Moose Tracks
Moose Tracks is a rugged one lane trail leading to amazing views of Little Whitefish Lake and numerous wetlands. The trail leads you deeper into the forest, over streams and scours the side of a beautiful waterfall. Home to a family of minks, deer and moose, this trail is a "rugged use only" trail. Challenge your skills by exploring this 2 km trail. This loop will take you 25 minutes to complete. Difficulty Level: Very Difficult.
Park-to-Park Trail
The Park-to-Park Trail is a regional initiative to create an east-west link through Parry Sound, Muskoka and Haliburton. Connecting Killbear Provincial Park to Algonquin Provincial Park, this 230 kilometre length of trail is a destination for all trail enthusiasts.

This project will ultimately create a four-season multi-use trail system that will link seven of the province's premiere parks, as well as area attractions, services, amenities and other trail networks such as the Trans Canada Trail. Trail uses include hiking/walking, cycling, cross-country skiing, snowmobiling, horseback riding, dog sledding, ATV's and trail bikes. Please note that all trail uses may not be permitted on all sections of the trail. Contact Park-to-Park Trail for further information.

The Park-to-Park Trail route traverses a region rich in natural and cultural heritage. Highlights include visible evidence of the logging and railway history of the area. Early settlement villages and colonization roads are features common along the trail. Physically, the trail passes numerous lakes, rivers and streams, as well as extensive areas of forest, field and wetland habitat. A celebrated feature of the Park-to-Park Trail is the Precambrian geology of the Canadian Shield. The trail cuts laterally across the southern extent of the Shield exposing the glacially scarred granite bedrock.

For more information, please contact the Park-to-Park Trail staff at 888-587-3762 or visit them at www.parktoparktrail.org.
Rose Point Recreation Trail
This 6 km trail travels from James Bay Junction Road Souththrough to Rose Point Road along the old JR Booth Rail bed. This trail is a vital link to larger provincial and regional trail systems including the Park-to-park Trail. The Rose Point Trail section is owned by Seguin Township but is maintained by the Park to Park Trail Association.
Rose Point Recreational Trail Management Plan
The rich history, geology and nature found along this trail bring in trail enthusiasts including snowmobilers, ATVers, hikers, cyclists and cross-country skiers.
Check out the brochure for more information.
Location of the Rose Point Trail Head, click here
Parking near trail head
Parking near James Bay Junction (East side of trail)
To report maintenance issues, please contact the Park-to-Park Trail staff at 888-587-3762 or visit them at www.parktoparktrail.org.
Rosseau Self-guided Walking Tour
Welcome to the Village of Rosseau where history is alive within the shops and homes of its residents.
We invite you to stroll along our quaint streets in a self-guided tour and take in a sense of the history that was carved out of the wilderness more than a century ago.
Seguin Trail
The Seguin Trail is situated on a section of the long abandoned JR Booth Railway system stretching from Ottawa to Arnprior and Parry Sound. This is part of the Park-to-Park Trail system.
This beautiful trail appeals to many types of trail enthusiasts such as hikers, cyclists, cross-country skiers, snowmobilers, and ATVers.
Location of Seguin Trail Head, click here
Skiing (X Country)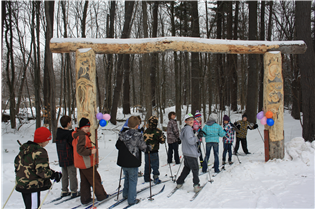 The Humphrey Nature Trails consist of two distinct loops for the beginner and intermediate skier.
The trails are beautifully wooded and groomed for classic skiing. Soon to be expanded, these trails are perfect for an afternoon outing with the family.
For a more intense workout head out to the Georgian Nordic Ski and Canoe Club located at 9 Mile Lake Road in Parry Sound where the trails are groomed for both classic and skate ski enthusiasts.
Other trails in the area welcome all skiers but are not groomed for classic skiing. Please visit the Trails page for more information.
Snowmobiling and ATVing
Are you a snowmobiler or ATVer looking for the best trails in Ontario? Look no further than Seguin which boasts some of the most revered recreation trails in the area. Beautifully forested with amazing views, these trails will keep you coming back again and again.

Please visit the following pages for more information: