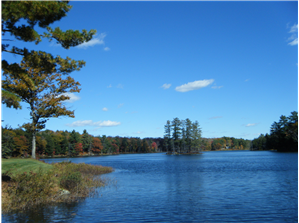 As an environment first municipality, Seguin pride's itself on its environmental planning initiatives and outreach to ensure our lakes remain healthy. These initiatives are aimed at improving the ecological health of our lakes, maintaining septic systems and collaborating with the numerous Lake Association's within our Township.
The Seguin Lake Water Quality Monitoring Program, developed in 2008, is a field-based program that monitors approximately 120 lakes across Seguin on a rotating basis.
The purpose of the Water Quality Monitoring Program is to establish a historical record of water quality parameters so that trends in water quality can be identified.
The Water Quality Monitoring Program measures:
Spring Phosphorus concentrations (a measure of nutrient enrichment)
Dissolved Organic Carbon
Calcium, Chloride and Sulphate
Secchi Depth (a measure of water clarity)
End of summer dissolved oxygen and temperature profiles
Find out if your lake is being sampled, and if so, review past results on the Online Interactive Map. Please note, the most recent 2018 data results have not yet been incorporated into the online map. For the most recent data, see the links below. Please note that all Ontario inland lakes are included and are listed alphabetically:
For information on how to interpret the data, visit the Guide to Interpreting Lake Partner Data.
For more information regarding water quality results and the Lake Partner Program, please visit the Dorset Environmental Science Centre website.
Hutchinson Environmental Year End Reports