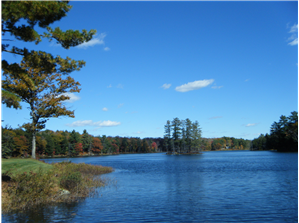 As an environment first municipality, Seguin pride's itself on its environmental planning initiatives and outreach to ensure our lakes remain healthy. These initiatives are aimed at improving the ecological health of our lakes, maintaining septic systems and collaborating with the numerous Lake Association's within our Township.
The Seguin Lake Water Quality Monitoring Program, developed in 2008, is a field-based program that monitors approximately 120 lakes across Seguin on a rotating basis.
The purpose of the Water Quality Monitoring Program is to establish a historical record of water quality parameters so that trends in water quality can be identified. For more information regarding water quality results and the Lake Partner Program, please visit the Dorset Environmental Science Centre website. To find the phosphorus data listed aphabetically by lake, please go to the Lake Total Phosphorus Data page For information on how to interpret the data, visit the Guide to Interpreting Lake Partner Data.

For a list of Lake Total Phosphorus Data (Seguin Lakes only) click here
The Water Quality Monitoring Program measures:
Spring Phosphorus concentrations (a measure of nutrient enrichment)
Dissolved Organic Carbon
Secchi Depth (a measure of water clarity)
End of summer dissolved oxygen and temperature profiles
On December 7th, 2009, Tammy Karst-Riddoch, PH.D. with AECOM presented Township Council with the final version of the water quality model program.
View the presentation: Shoreline Development Capacity of Recreational Lakes in Seguin Township: Phosphorus
Lake Phosphorus Testing sites. Click on the map symbols to obtain the results from each test. Click on the left and right arrows at the top of identify window to scroll through the different test results. The more tests there are the more red the symbol is.
Mapping Application to come soon.