Just a two-hour drive north, away from the hustle and bustle of the City of Toronto is Seguin Township. As the Natural Place to Be, it is truly the Natural Place to plan your vacation. Escape to our four-season paradise and take in our natural setting of lakes, rivers, forests, beaches and winding trails. Seguin is our little piece of paradise ready to be discovered.
We invite you to explore the exciting opportunities within Seguin and the surrounding region. Visit Parry Sound Tourism to find places to stay, things to see and do, or regional events.
Throughout our navigation on the left you will find many organizations to help you plan your perfect visit and make your experience truly unforgettable.
Hope to see you in Seguin!
Car Rental
Need help getting around? Discount car rental services are now available at the Parry Sound Area Municipal Airport. Always ahead call to reserve a vehicle and at your leisure use the kiosk to pick your car up, during and after Airport closing.
Call for discount car and truck rentals at 705-645-0372
Explorers Edge RTO 12
Explorers' Edge (RTO 12) is one of 13 Regional Tourism Organizations (RTOs) in Ontario. The RTOs were established to identify and implement regional priorities, allowing for more consistent marketing of Ontario's tourism regions.
RTO 12 was established in 2010 and is now branded as Explorers' Edge, consisting of Algonquin Park, Almaguin Highlands, Parry Sound and Muskoka.
With 2,738 establishments, 264 accommodation establishments, 180 arts, recreation and entertainment enterprises, 271 food and beverage establishments, 711 retail businesses and 312 other establishments, the Explorers' Edge region hosted 3.478 million tourists in 2008 and generated about $662 million in tourism receipts.
Approximately 10 Destination Marketing Organizations and related entities are active throughout the Explorers' Edge region (Muskoka Tourism, Parry Sound Tourism, Almaguin Highlands, Parry Sound Area Chamber of Commerce, Friends of Algonquin Park, Magnetawan & Area Business Association, Southeast Georgian Bay Chamber of Commerce and Vacation Land Ontario).
Explorers Edge is located at:
345 Ecclestone Drive
Bracebridge, ON P1L 1R1
Phone: 1-800-835-7303
or Email Explorers' Edge
Georgian Bay Biosphere Reserve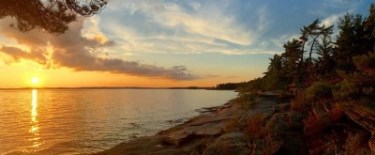 The Georgian Bay Biosphere Reserve - people and nature living in balance.
The eastern shore of Georgian Bay was designated by UNESCO in 2004 as a globally special place. As the world's largest fresh water archipelago, the Georgian Bay Biosphere Reserve stretches 200 kilometres from the Severn River to the French River delta. The region takes pride in this designation and delivers valuable information to ensure proper stewardship of the region's precious natural resources.
The Georgian Bay Biosphere Reserve (GBBR) is a non-profit organization that builds networks, facilitates dialogue and coordinates programs with other partners to move the yardsticks of sustainability. The GBBR provides a platform for working together to protect a healthy environment, create vibrant communities and build a healthy economy for future generations.
Parry Sound Tourism
Parry Sound is a beautiful town, located on the shores of an inland "ocean", Georgian Bay. The area boasts many beautiful beaches, parks and trails. It is ideally situated just off highway 400, in the Southermost part of Northern Ontario.

This charming waterfront town is within a UNESCO Biosphere Reserve, and home to 6,500 residents in the town itself, and over 14,000 in the immediate area. In summer, the population grows to nearly 100,000 people with seasonal residents, making for a very interesting dynamic!

The area boasts several Provincial Parks and unlimited water for boating, canoeing/kayaking, fishing and things to do. In the winter, Parry Sound has a thriving snowmobiling, ice fishing, skiing and snowshoeing industry. The lakes generally freeze by January, and snow abounds in the area!

In the summer the area swells with cottagers and visitors, who have discovered the beauty and hospitality of the region.


For more information visit www.ParrySoundTourism.com
Muskoka Tourism
Muskoka Tourism provides useful, practical and meaningful information related to one of Seguin's neighbouring premier vacation destinations. The organization provides tourism resources for cottagers as well as visitors to the area and promotes many vacation experiences including attractions, accommodations and businesses.
Muskoka Tourism operates two Travel Information Centres, one located on Highway 11 North of Severn Bridge in Kilworthy and a second location on Highway 400 at Port Severn. They also provide information services to potential visitors through the Internet, phone inquiries, email inquiries and walk-in traffic.
For information on Muskoka please contact our Travel Counselors at 1-800-267-9700 or email at Muskoka Tourism. Muskoka Tourism Marketing Agency is a not-for-profit membership association funded by both the District of Muskoka and the private sector and was established in 1935 as the Muskoka Tourist Association (MTA) by a consortium of operators to promote Muskoka as a vacation destination. In 1985, the current association, Muskoka Tourism Marketing Agency (MTMA), evolved from the MTA. A strong proponent of this change was the District Municipality of Muskoka
Park to Park Trail
The Park-to-Park Trail is a regional initiative to create an east-west link through Parry Sound, Muskoka and Haliburton. Connecting Killbear Provincial Park to Algonquin Provincial Park, this 230 kilometre length of trail is a destination for all trail enthusiasts.
This project will ultimately create a four-season multi-use trail system that will link seven of the province's premiere parks, as well as area attractions, services, amenities and other trail networks such as the Trans Canada Trail. Trail uses include hiking/walking, cycling, cross-country skiing, snowmobiling, horseback riding, dog sledding, ATV's and trail bikes. Please note that all trail uses may not be permitted on all sections of the trail. Contact Park-to-Park Trail for further information.
The Park-to-Park Trail route traverses a region rich in natural and cultural heritage. Highlights include visible evidence of the logging and railway history of the area. Early settlement villages and colonization roads are features common along the trail. Physically, the trail passes numerous lakes, rivers and streams, as well as extensive areas of forest, field and wetland habitat. A celebrated feature of the Park-to-Park Trail is the Precambrian geology of the Canadian Shield. The trail cuts laterally across the southern extent of the Shield exposing the glacially scarred granite bedrock.
For more information, please contact the Park-to-Park Trail staff at 888-213-8143 or visit them at www.parktoparktrail.org.
Parry Sound Snowmobile District
The Parry Sound Snowmobile District (PSSD) represents District 10 of the Ontario Federation of Snowmobile Clubs (OFSC) Trail network. As the heart of Georgian Bay Country, the PSSD trails can be accessed within a short drive from the Greater Toronto Area.
The member clubs within the Parry Sound Snowmobile District operate a trail network of over 1,100 kilometres containing both a mix of looping and family trails along with several Trans Ontario Provincial (TOP) Trails.
The PSSD District 10 member clubs include:
The Parry Sound Snowmobile District trail network spans from the Moon River in the South, to the Key River in the North, and from Georgian Bay in the East to Highway 11 in the West.For more information on permit sales, trail conditions or snowmobiling in the Parry Sound Snowmobile District contact staff at 705-746-7663 or call the permit hotline at 1-888-213-8143.
Sail Parry Sound
Sail Parry Sound is the place for fun this summer! Stride! Ride! Eat! Sail!
Our award-winning sailing day camp, operating since 1998, welcomes youth aged 8-18 by the week, and adults by appointment for eight weeks on the beautiful Parry Sound, Georgian Bay waterfront. Managed by volunteers, who employ Canadian Yachting Association (CYA) certified instructors; the school organizes and manages sailing races and events. Enjoy fresh delicious snacks and drinks, with a spectacular view of the bay on the upper deck at Sail Parry Sound. Experience the fun this summer!
Check the Sail Parry Sound website www.sailparrysound.on.ca for a list of events.
Sail Parry Sound: on the Waterfront Trail: first left, North of the Stockey Centre.