The Parry Sound Area Municipal Airport (PSAMA) is located in Seguin Township in the District of Parry Sound, 45.253381,-79.827540. The PSAMA's runway is 4,000' with a 290' by 320' apron and medium-intensity airfield lighting. The airport has a float plane base located on the 4,000' long Robert's Lake connected to the airport via a private access road.
Reminder: Robert's Lake is an active recreational lake, please respect all legitimate uses of the lake and promote a safe and enjoyable environment.
The PSAMA is a popular re-fueling destination for Air Ambulance, Hydro One Helicopters, Ontario Provincial Police, and Search & Rescue. See the diversity of aircraft found at the PSAMA on the video below!
The newly renovated Business Centre is open seven days a week with ample parking in both the long and short term lots. The business centre offers a pilot's lounge, flight planning station, wireless Internet and a friendly atmosphere where you can enjoy a home cooked meal at Wing's Airport Café. Join us for a hot cup of coffee or a bowl of our homemade soup! View our facilities page
Airport Runway Project:
The Parry Sound Airport is proud to announce that we are extending and widening the existing runway from 1,200m-long by 23m-wide to 1,500m-long by 30m-wide and will include an all-new runway and approach lighting.
It is an exciting project that will make it easier for emergency services to respond in all-season and all-weather conditions, as well as provide economic advantages to local businesses and residents.
Currently the runway is closed for Airplane traffic until August 11, 2023. Access to Roberts Lake, ramp for Helicopters, fuel desk, Wings Cafe and all other Airport facilities remain open as usual.
Enjoy some photos of our progress so far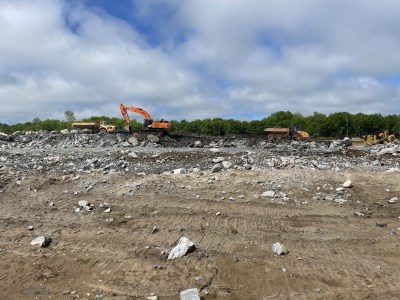 Airport Manager:
Neil Pirie
Telephone - 705-378-2897
Fax - 705-378-5492
parrysoundairportmanager@gmail.com
Airport Customer Service Manager:
Hilary Metcalfe
Telephone - 705-378-2897
Fax - 705-378-5492
parrysoundairport@gmail.com
Let us know what you think!
Your comments are important to us and we appreciate feedback about our airport, facilities and services. Thank you for taking the time to help improve the Parry Sound Area Municipal Airport!